Alternate Thread Path

Printable PDF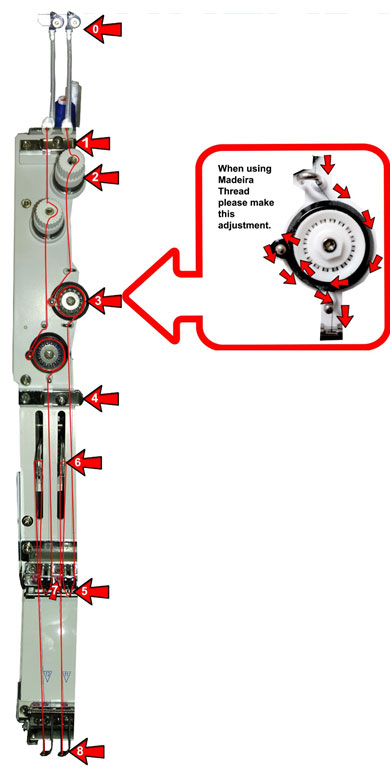 Pretension Knob and Thread Tube – Thread goes through the hole at the top, go to the right and between the discs. Now thread down through the thread tubes using the provided threading tool.
Metal Tab – Slide thread under this tab on the left or right, based on the needle number. Depending on which needle you are threading, you may also have a peg below this tab. If you do, go to the left of it.
Main Tension Knob – Go to the right of the main tension knob and between the metal discs, then to the left of the peg at the bottom of the discs.
Tension Wheel – Above the tension wheel there will be either a peg or a hook. Go to the right of the peg or into the right side of the hook.
Metal Tab – See Number 1.
Check Spring – Thread down from the metal tab to a set of metal posts. First, go to the fight of the posts and down through the hole beneath. Here there is a check spring, thread right to left, and then back up on the left side of the metal posts.
Take Up Lever – Above the check spring in the take up Lever. Thread this from left to right.
Thread Guide – Now thread the purple thread guide beneath.
Presser Foot and Needle – The needle is attached to the presser. Thread past this and down the needle. Thread the eye of the needle and then through the hole at the bottom of the presser foot.